Welcome to Everyday HCG!
Hi!  We're Jillian & Tara, the wife team behind Everyday HCG.  Between the two of us, we have completed 6 rounds of HCG and lost over 110 lbs.  Through the trial and error of cooking while on the HCG diet we have finally come to a place where we can cook food we enjoy while on the diet (or while only one of us is on the diet).
Here we will be sharing our recipes, tips and tricks for sticking on to the HCG Diet in a way that fits into your everyday busy life!
And a couple "before" picture of us circa 2010.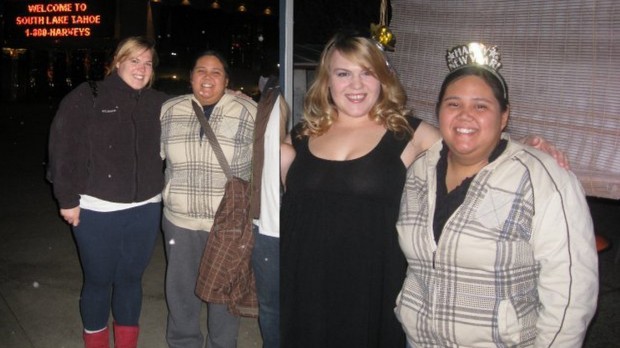 And our official "Before & After"

A little more about Jillian
I was the one who started us down this crazy path of weight loss and a healthier lifestyle.  I have pretty much struggled with being overweight my entire life.  In 2010 I was at my all-time heaviest at 250+ and feeling desperate and depressed.  One of my best friends decided to do the HCG diet and 3 weeks later I started my first round. 20 lbs. and 30 days later I knew I found the weight-loss solution for me.
Since then I've managed to stabilize fairly well with a low carb/primal diet.  My current biggest challenges are my social life, sweets and red wine.
A little more about Tara
For me, HCG has not only been a way for me to lose weight, but has really been a tool for me to reset my entire diet and my metabolism in the process.  I grew up on a traditional Philipino diet which consisted of large portions and lots of rice.  That combined with my passion for really tastey (yet unhealthy food) led to weight gain.  HCG gave me a way to completely reset and evaluate what I craved vs. what my body needed.
My passion for food turned into a career as a chef.  I'm currently the head chef at a catering company in the bay area.  Having an extremely limited ingredient list to choose from pushed me to my creative limits, but the result is great tasting food even on the super restrictive HCG protocol.
Other Fun Facts
We're California girls currently living in the Bay Area.
We've been together for 10 year and got married December 2012.
We have two dogs, LC and Ushi, who are both rescue dogs.
We started doing crossfit in March 2013 and absolutely love it.